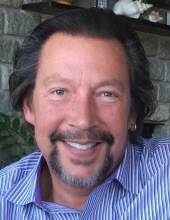 Obituary for Christophe Karageorge
Christophe Karageorge, 55

Scarborough - Chris Karageorge passed away peacefully with his family by his side on January 27, 2018.

Chris was born during an ice storm in Kingston, NY on January 12, 1963 to Yuri and Venise (Cloutier) Karageorge. Chris lived in several areas of NY; most of his formative years were spent in Monticello, NY.

Chris moved to Lewiston, ME when he was a senior in high school. In 1983, when Chris was 20, he met his soulmate, Lauralisa Haas.

Chris and Laura attended UMaine (Orono) together. Chris transferred to Johnson & Wales Univ. in Providence, RI. After graduating UMaine, Laura moved to Providence to be with Chris. Chris loved his classes at JWU, graduating with a masters degree in Managerial Technology in 1990. That same year, Chris and Laura decided to move back to Maine to be closer to family. They married on October 13, 1990.

In 1992, a friend of Chris's introduced him to residential real estate appraising. Chris loved this line of work and excelled in it as Chris often did in anything he pursued. In 1994, Chris and Chuck Sanders started their own appraisal company, Beacon Appraisal.

As Chris was growing the business he and Laura started their family. On July 26, 1995, Arielle Jay was born. As Chris's business continued to grow, so did his family; Antonia Celina was born August 9, 1998. On Feb. 28, 2007, Chris and Laura completed their family, adopting their son, Reno Vitya.

In 1999, Chris began a second business, Sea Mist Development Group, general contracting residential homes, using his great sense of design in the finished details of each home.

Chris had a larger than life personality. Some of Chris's fondest memories include boating on Sebago Lake with family and friends. Chris loved to go snowmobiling in Rangeley where the Karageorges spent many winter weekends. Chris also loved spending time at the ocean.
During his entire life, Chris had a passion for anything with an engine especially muscle cars and motorcycles. He meticulously maintained his 1969 Corvette and purple American IronHorse chopper.

Chris expressed his true loves by tattooing the names of his wife and kids on his left arm; his vette and chopper quickly followed on his right. Chris could often be found hanging out (in any garage) with his good friends or taking motorcycle rides with the "OCD gang" (you know who you are).

Chris was diagnosed with Stage 4 cancer in February 2010 and was given extremely grim odds of survival. He exceeded ALL expectations of the healthcare professionals, Maine to Boston, finding strength in his passion for life and his friends and the family he didn't want to leave. He showed everyone in his world just what he was made of.

The family wishes to express their sincere appreciation to the staff of New England Cancer Specialists for the compassionate care Chris received over the years.

Chris is predeceased by his father, Yuri Karageorge.

He is survived by his mother, Venise Trafton and sister, Svyla Karageorge of FL, his loving wife Laura, daughters Arielle and Antonia, and son, Reno of Scarborough and many other family and dear friends.

Relatives and friends are invited to Celebrate Chris's life at The Landing at Pine Point, 353 Pine Point Road, Scarborough on Saturday, February 3 from 1:00 to 4:00 pm with a ceremony from 1:30 to 2:00 pm.

In lieu of flowers, those desiring may make a contribution to the family to benefit the education of Chris's children.
Previous Events
Celebration of Life
The Landing at Pine Point
353 Pine Point Road
Scarborough, Maine 04074