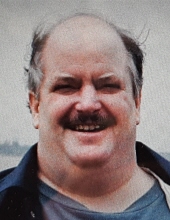 Obituary for David A Crandell
South Portland - David A. Crandell, 64, died on May 16, 2018, at his home from a heart condition. David was born on April 27, 1954, in Geneva, NY, the son of the late Donald E. Crandell and Dorothy J. Crandell. He graduated from Glenwood High School in Canton OH in 1972. Shortly after graduation, David moved with his family to Maine, where he spent most of his adult life employed by Rufus Deering Lumber Co., of Portland, finishing his career in the sales department. It was important to David to stay in close contact with his family and friends through visits and social media, and afternoons spent swimming or playing games were some of his favorite activities.

David loved to travel, making several coast to coast trips, including one with his twin brother, camping from one end of America to the other and back, as well as many trips to visit relatives in England. David annually attended NASCAR races, and loved to watch hockey, basketball, baseball, and football games all over the northeast and Canada. David is survived by his twin brother, Darrell; sister, Sharon Stephenson; brother, Mark Crandell and his twin sister, Marsha Shoemaker; and four nephews, John Crandell and Travis, Jason, and Craig Shoemaker.

A service of remembrance will be held in the Woodfords Congregational Church, 202 Woodford St., Portland, on Saturday, May 26, at 11:00am with Rev. James W. Fletcher officiating. Burial will be private. Arrangements are under the direction of the Conroy-Tully Walker Funeral Home, 172 State Street, Portland.
Previous Events
Service
Woodfords Congregational Church
202 Woodford Street
Portland, Maine 04103