Obituary for Janice Beth Reale
Janice Beth Reale, 57, of Crescent View Avenue in Cape Elizabeth, loving mother, daughter, sister and friend to many; passionate and accomplished photographer, artist, and writer; devoted volunteer and fundraiser; and dedicated athlete, died Thursday, May 11, 2017, at her home, surrounded by loved ones.

A few months after being diagnosed with glioblastoma, an aggressive brain tumor, in August 2014, Jan summed up her hopes with a simple line she repeated often: "I'd like to be remembered for leaving my little world a better place for having been here."
That she did, in a profound way. Jan will be remembered widely for her compassion, kindness and generosity.

Jan's greatest love and passion was for her children – Matthew Reale-Hatem, 20, and Olivia Reale-Hatem, 17. Jan accepted and was not afraid of dying, and knew her children would be OK because of the abundance of love surrounding them. Jan was thrilled to have special time with them in the past few years on trips to California; Washington, D.C.; Florida; Puerto Rico; and Mexico City.

"I'm so lucky to have so many good and caring people in my life," she said in 2015, and many other times. "My family and my friends are just everything. They'll never know how much I have appreciated their most kind, generous, and helpful support."

She always spoke with special affection for her mother, Camille Reale, who still lives in the house in Trumbull, Conn., where Jan and her brothers grew up; her father, John Reale, who died in 1985; her close, supportive brothers Josh, Mark and Matthew Reale, "who are just the best;" and her "other family" – the many close friends who have provided endless support "through times of challenge."

Jan was born June 3, 1959, in Bridgeport, Conn., and lived many places, but she made profound connections in Maine and had a great love for Cape Elizabeth over 17 years. She was well known around town for her community history project, "I Remember Cape Elizabeth: Senior Stories, Extraordinary Memories," which she started in 2007 to chronicle, through photographs and poignant essays, the life stories of older Cape Elizabeth residents. She often called this work a "privilege."

As part of the project, Jan led classes to encourage residents to write their recollections on "memory cards," which she put together, along with her essays and photos, for exhibits at Thomas Memorial Library in 2010 and 2013. Two of the collections now are permanently displayed at the Cape Elizabeth Community Center and all are part of the permanent collection of the Cape Elizabeth Historical Preservation Society, where Jan was actively involved as a program coordinator. She also initiated the first historical bus tours through town, which continue today.

Jan was thrilled to attend a November 2015 reception in her honor at the Community Center, in recognition of her many contributions to the town. "It means a lot to me, and I am very honored, to be sure," Jan said at that time. "But, more than anything, I love the idea of having more people come to learn more about our incredible town."

Jan was an accomplished photographer and produced beautiful hand-painted black & white prints and cards. She was proud of special photo projects that included covers for a Cape Elizabeth Community Services brochure, a local cookbook, and a school directory. One of the first projects she was quite proud of included a series documenting her brother Josh's life as a trucker in upstate New York – that work was exhibited in Connecticut. She also ran a photography business during her time in Massachusetts.

Jan loved writing, especially poetry, and earned a Gold Key poetry-writing award in high school. She loved listening to The Writer's Almanac with Garrison Keillor radio program every morning, as well as anything, written or spoken, that involved personal stories, such as The Moth Radio Hour. She continued this passion in Maine, and she also submitted two manuscripts for children's books to multiple publishers. Her historical projects included poignant narratives interwoven with the reflections of senior citizens. Much of her creative work has been memorialized at www.janicereale.com.

Jan attended State Street Church in Portland, and was a member of her beloved Cape Triers triathlon group and a local book group. Because she cherished nature, she also supported the Cape Elizabeth Land Trust.

She especially enjoyed walks to Kettle Cove in her neighborhood, sometimes several times a day, always marveling at the beauty around her. Jan loved sharing her appreciation for the outdoors with her children and many others around her. She was a passionate birder, and she particularly enjoyed walks through Scarborough Marsh, pointing out egrets, herons, plovers, and the occasional pileated woodpecker.

Because she was such a petite person, many wouldn't have guessed this upon first meeting her, but Jan was an incredibly strong, tough and admired athlete – a triple-threat runner, bicyclist and swimmer who completed numerous triathlons, marathons, half-marathons and endurance bike races with impressive times. She was especially fond of the annual TD Beach to Beacon 10K through Cape Elizabeth, which she ran more than 10 times, including in 2016, two years after her diagnosis. She also greatly enjoyed kayaking and camping, and spoke fondly of her experiences camping on Richmond Island with dear friends.

At age 45, Jan found a way to combine her love of athletics with a generous spirit. She raised $12,000 for the national Leukemia and Lymphoma Society by completing marathons in Dublin and San Diego, and mentoring other runners in a training program. In 2007 and 2008, her efforts centered on the Making Strides for Breast Cancer event in Portland, benefiting the American Cancer Society. In 2008, she started annually taking part in the Tri For A Cure triathlon through Cape Elizabeth and South Portland, raising nearly $3,000 for the sponsoring Maine Cancer Foundation in 2010 alone. That year, she also raised money for the American Lung Association during the Trek Across Maine bike race, which she took part in five times.

Her volunteer efforts were far ranging. In 2005, she initiated and co-organized a fundraising event for tsunami relief efforts in Southeast Asia, raising $3,000 for the American Red Cross. She regularly volunteered at Wayside Soup Kitchen in Portland, and she was a volunteer member of the Cape Elizabeth Arts Commission in 2009. Jan certainly made an impact on Maine, but was actively involved in each place she called home.

While living in Key Biscayne, near Miami, where she lived for more than five years and had many fond memories of, she was named 1987 Rookie of the Year as a crisis hotline volunteer and trainer. She also worked for the American Cancer Society, teaching classes to help people quit smoking. In 1989 and 1990, she was an activities coordinator at the Emmaus House Homeless Shelter in Haverhill, Mass., leading children's activities, volunteering at a monthly dinner, and initiating a Mother's Day photos program for residents. In 1991 and 1992, she trained dogs used in special-needs classrooms while working for the New England Assistance Dog Service in Princeton, Mass., and she adopted a dog to train as a guide dog for the blind. And she was named Volunteer of the Year in 1994 and 1995 for her work on behalf of Haverhill (Mass.) Community Television.

Jan earned a bachelor's degree in sociology from Boston College, a physician assistant certificate from Yale University, and Educational Technician III certification from the Maine Department of Education.

Her career took many interesting turns. She started in 1980 at Children's Hospital Medical Center in Boston, planning activities for patients and families and coordinating the Summer Activity Program, then was a child-care worker in the Pediatric Neurology Rehabilitation Unit of Kennedy Memorial Hospital for Children in Brighton, Mass.

As a health-center coordinator and promotion specialist for Southeast Bank in Miami in 1984, she established a wellness center for more than 1,000 employees, coordinating blood drives – not surprisingly consistently exceeding donation goals – helping to design and implement a statewide employee assistance program, training hundreds of supervisors, and coordinating programs.

After moving north again, she worked as a PA at Harvard Community Health Plan in Medford and Peabody, Mass. In Maine, until her illness, she managed several properties in Cape Elizabeth and Scarborough. She had also worked for VSA Arts in Portland, leading media art projects in several group homes in Greater Portland and in an elementary school special-needs classroom in Westbrook, and was an artist-support leader at the annual Festival of Nations event in Portland. She most recently worked as a customer service and sales representative for Solstice Corporation in South Portland.

In addition to her mother, Matthew and Olivia, Jan is survived by three brothers, Josh Reale (and his wife Isabel and nephews Jonathan and Joshua) of Amsterdam, N.Y.; Mark Reale (and his wife Debbie and son, R.J.) of Trumbull; and Matthew Reale (and his partner, Diane Hotchkiss), also of Trumbull.

Visitors may greet the family from 10-11 a.m. Wednesday, May 17, at State Street Church, 159 State St., Portland, Maine. A celebration of Jan's life will follow at 11 a.m. at the church. Burial will be private. Parking is available across the street at Conroy-Tully Walker Funeral Home, 172 State St., Portland.


In lieu of flowers, donations may be made to Preble Street Soup Kitchen at www.preblestreet.org or UNICEF at www.unicef.org.
To send flowers or a remembrance gift to the family of Janice Beth Reale, please visit our Tribute Store.
Previous Events
Celebration of Life
State Street Church
159 State Street
Portland, Maine 04101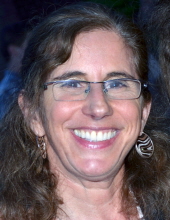 Thank you for sharing your
memory of Janice
Provide comfort by sending fresh
flowers from our local florist.
No thanks, please don't show me this again.