Obituary for Kelly J. Zwicker
On her 51st birthday, Kelly lost her battle with breast cancer. Here is her obituary written in her own words:

Hello it's me (oh Adele, I love that album 25). I wrote my own obituary because I'm cool like that :)

2010 is when I was first diagnosed with Stage 2B Breast Cancer. Cancer was in my right breast and had spread to my lymph nodes. Out of 14 nodes, 6 tested positive for cancer. I was pretty darn certain that I was going to beat this. I went until 2016 cancer free and then was once again diagnosed with breast cancer in the same breast. This time Stage 1. Ok, I can deal with that. Double mastectomy performed in July and reconstruction with implants in December 2016. Each time thanks to mammograms. Please get your mammogram, it could and will save your life.

There, look at me. Still living with two breast cancer diagnosis.

2017 was going to be my year. I was turning 50 and my best friend since the 7th grade (Kristine) and I were going on a trip of a lifetime; Portugal and Paris, France. We had the best time and it was truly amazing, spectacular and everything we could have hoped for. My only daughter was getting married and my son Lucas would start his senior year in High School.
In June of 2017 I decided to do some landscaping work to the back of my house. Those pesky weeds were going to be no match for the rocks I was going to cover them with. My sons Lucas and Levi helped me spread 4 tons of rock along the foundation of my house. While doing this, I hurt my back pretty bad. I waited and hoped it would heal on its own but it did not. So I visited a chiropractor and he helped me for a while and I thought the pain was going away, but it did not. I saw my family physician who said it was just muscle pain and she prescribed me muscle relaxers, which did not help.

I went through the summer and fall taking a lot of Advil. I truly thought the pain was stemming from what I called "The Rock Project".

In October, I had a regular 6 month check with my oncologist. I saw my favorite nurse practitioner, Dixie, and mentioned to her that back pain I was having. Her first thought, with your history of breast cancer, is that we should do a bone scan. Ok, yes, that sounds like a plan. They could not schedule it until November 6, which was two days after my daughter's wedding. I was not happy I had to wait that long, but looking back, I was able to enjoy my daughter's wedding without truly knowing what was wrong with my back. A blessing.

November 7, 2017, I got the news. Not only did I have cancer again, but it has now spread to my brain, bones, and liver! WHAT? My back pain was from a rib chewed up by cancer and my spine.

I did all I could to stop the cancer. All over radiation to my brain. Radiation to my back to help with the pain. Drugs like Ibrance, Chemotherapy, Herceptin and hormone therapy. I did not give up. In the end it took my life. I knew it would and I tried to mentally prepare.

I want to thank my sister Dawn for her endless love, dinners, talks, and encouragement. And to my best friend, Kristine, for her never ending help with all I still had to do as a mother of the two boys who were still growing up. And to my parents for their love and belief I could beat this. My dad always said, "If love could save you, you would be healed." I'll see you again dad. Heaven awaits.

I leave behind my parents Hugh and Linda Zwicker of Standish; my sister, Dawn and her husband Chris Roma of Standish; my children, Bianca and her husband Zander Donegan, Lucas Brown and Levi Brown, all of South Portland. My nephew, Shane and wife Katie Roma of Raleigh, NC; my niece, Danielle, husband Josh Spearin and baby girl Charlotte of Otisfield; my niece, Sandy Roma of Standish; my best friend forever and always, Kristine O'Malley and her daughters Hana and Drew Martinez of Buxton. To you all, I quote The Beatles, "In my life, I've loved you more."

Please celebrate my life with laughter, love, kindness and stories of you and I. I am so happy to be in Heaven where Jesus is and my grandmothers, Aunts and Uncles who went before me. They are all holding out their hands for me as I go into the light. Peace and love to all.

My Celebration of Life will be held on Saturday, July 21 at 10AM at South Portland Church of the Nazarene, 525 Highland Ave., South Portland, with Rev. Cheryl Curlew officiating. Interment will follow at Forest City Cemetery, and then I invite everyone to a reception at the church to continue to share stories and memories with one another.

Arrangements are under the direction of the Conroy-Tully Walker Funeral Home in South Portland.

Those desiring may make donations to the Cancer Community Center, 778 Main St., South Portland, ME 04106.
To send flowers or a remembrance gift to the family of Kelly J. Zwicker, please visit our Tribute Store.
Previous Events
Celebration of Life
South Portland Church of the Nazarene
525 Highland Avenue
South Portland, ME 04106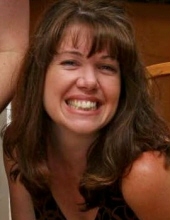 Thank you for sharing your
memory of Kelly
Provide comfort by sending fresh
flowers from our local florist.
No thanks, please don't show me this again.