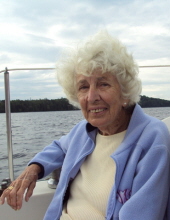 Obituary for Lisette V. DeBruycker
Lisette DeBruycker, of Portland, Maine passed away from natural causes on Mother's Day, May 14, 2017. She was 93.

Lisette was born April 10, 1924 in Antwerp, Belgium, the only child of Armand and Louise Stans Vinck. She emigrated with her parents to the United States in 1932 through Ellis Island in New York City. The family settled in the Flatbush neighborhood of Brooklyn, where Lisette attended local schools, graduating from St Francis Xavier Academy. Lisette's family lived near Ebbett's Field so she and her large circle of girlfriends were staunch fans of the Brooklyn Dodgers and "crazy about the boys from Brooklyn Prep". Lisette graduated from the Wood School in 1942 and joined J.P. Morgan & Company, starting as a stateside secretary to the firm's French partners and advancing to serve as personal secretary for Charles Dickey, the Chairman of the Board of Directors.

In 1950 Lisette met and married Russell W. Gross of Sea Cliff, New York. Together they raised five children while living in New York City, New Jersey and Maine. She and Russell divorced in 1975. Lisette married Achiel DeBruycker, a Belgian native in 1980. They divorced in 1986. Lisette and Bernard Ormont of St. Augustine, Florida were long time companions and travel partners until his death in December of 2015.

Upon moving with Russ and their five children to Scarborough, Maine in 1969, Lisette resumed her secretarial career, working for numerous law firms in Portland. She was a founding incorporator of the Cumberland County Legal Secretaries Association, serving as a President and National Director.

A highly skilled needlework artist and seamstress, Lisette enjoyed all forms of needle arts, including making matching dresses for herself and her young daughters for Easter and Christmas holidays, knitting intricate sweaters and socks, creating prize winning quilts and elaborate crewel works, needlepoint pillows and embroidery art pieces. Lisette will be remembered for her cheerful, selfless, and optimistic personality, her devotion to her children, grandchildren and wide network of friends, and her great sense of humor which she retained despite her advancing dementia until her death.

Lisette is survived by her sons Laurence, and his wife Barbara, of Portland, Christopher, and his spouse Josephine, of Chatsworth, California, and Thomas and his partner, Lori Hillier, of South Portland, her daughter Kathryn, of Port Richey Florida, seven grandchildren, and two great grandchildren. She was predeceased by her daughter Marianne Milliken and spouse Mark Milliken, her two husbands, and Mr. Ormont.

Friends are welcome to make memorial gifts in Lisette's honor to the Stewart Adult Day Center, 74 Lunt Road, Falmouth, ME 04105 where Lisette greatly enjoyed the staff, social stimulation and entertaining activities. Lisette's family will hold a private celebration of her life later this summer.

Arrangements are under the direction of the Conroy-Tully Walker Funeral Home in Portland.
Events
Event Information
Services will be set for a future date to be determined.